Change Behavior
Use real-world experience to validate skill development across the entire team
Visible Impact
Share experiences between Employees, Managers and Subject Matter Experts
At Scale
From 1 to 10,000 support consultants all monitored from the one solution.
| | |
| --- | --- |
| Consistent Behavior | Using our Skill Development Platform (SDP) we train your staff in a support services specific framework and then facilitate the process of putting it use in the resolution of real world cases. By feeding these proactive actions to each support consultant and sharing the results directly with managers and SME's we generate a cycle of learning and feedback that has your entire team exhibiting consistent behavior across the entire team. |
| Faster Resolution | By teaching support engineers to "lead" rather than "be led" service requests are processed faster with less rework. We track the instances of improved performance within our platform so that you can generate an ROI for the program. |
| Cost Effective | For $100 a user per year you can get this program started today. In addition we can provide instructor-led training if preferred which is led by experienced services executives. Our instructor-led classes are not charged per person so we work with you on budget to make it as affordable as possible across as many timezone and countries as possible. We are very used to global rollouts. |

Support Services Principles
Support Services Principles certificate is purpose built for support service consultants. We teach a very specific framework that sets a common language for the identification of issues, incidents and problems while helping consultants understand the process for finding the fastest and higher quality path to resolution.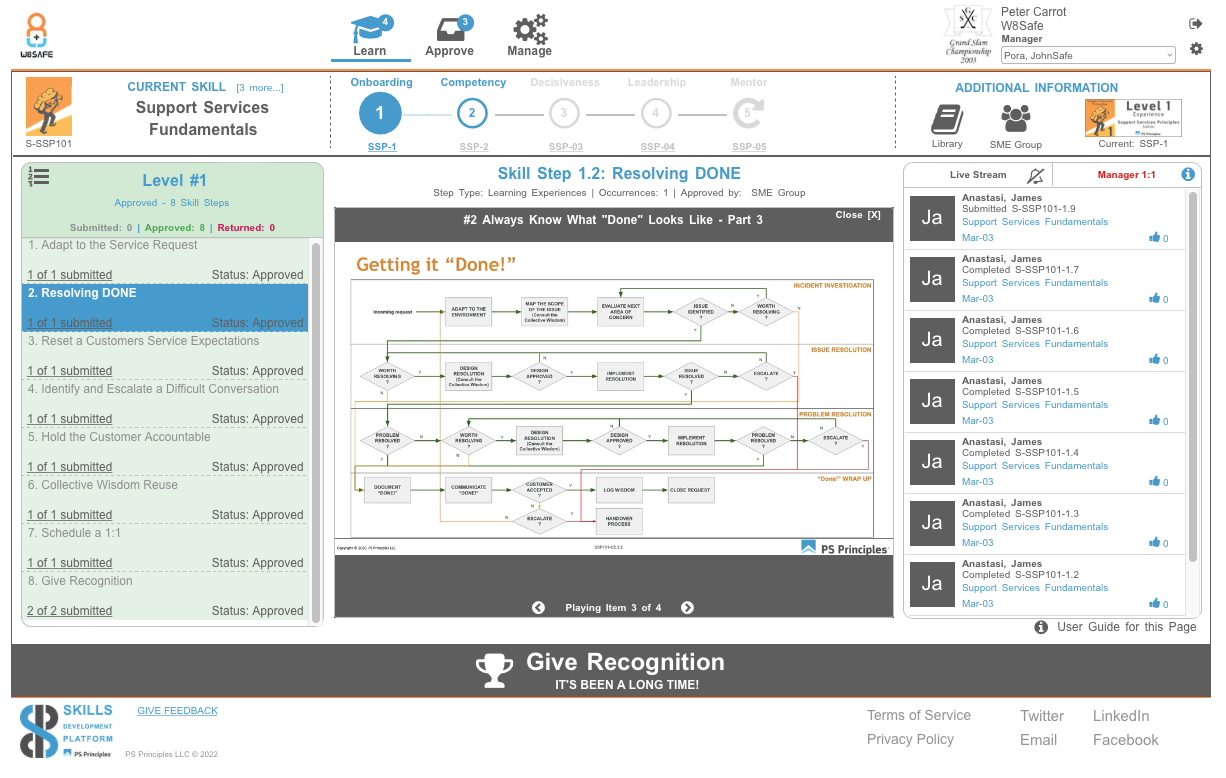 Individual Recognition
There are 5 certificate levels. Level 1 is earned by a combination of content consumption, field-based activities and passing the SSP-1 exam. Levels 2 thru 4 are earned through sharing experiences with a manager or SME and receiving feedback.

Corporate Recognition
Our corporate recognition program enables companies to publicly market the level of support service skill development they perform. Our tiered program allows for instant recognition of the level of commitment your organization places on skill development within its employees.