---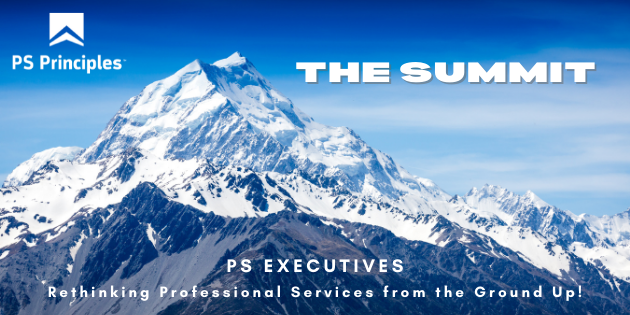 The Summit is a newsletter for decision makers in the Professional Services Industry trying to get a grip on modern day best practices.
With so much information at your fingertips, it's hard to know who or what to turn your attention to first.
Rest assured because PS Principles has done the hard work for you.
Our monthly newsletter, The Summit, is designed to give industry thought leadership on a relevant topic that actually matters to busy decision makers.
Here's some of what you can expect from The Summit:
Views From The Summit - Industry observations jam packed with thought provoking stories and insightful notes from the field written by PS Principles CEO and Founder, Shane Anastasi.


Free Climbing delivers timely insights meant to disrupt your thinking pattern and give you the nudge you need to take action within your organization.


Safe Climbing - A relevant blog post that furthers your knowledge and thinking on the topic of the month.
Topics: If you would like us to cover a specific topic then let us know and we will get on it. Details of how to do this will be in the newsletter.
Contributions: If you think you have something to say feel free to let us know or simply send us your contribution. Details on how to do this will be in the newsletter.